Witaj na forum iTrucks PL
Aby przeglądać profile użytkowników, zakładać nowe wątki czy pisać odpowiedzi, musisz posiadać konto!
Zakładając konto należy je aktywować w ciągu 48 godzin, w przeciwnym razie konto zostanie automatycznie usunięte.
1.36 Mod for steering wheel 180-270 Degrees 1.36.XX ATS
Rockeropsiempre




Bywalec




Użytkownik



Mod for steering wheel 180-270 Degrees 1.36.XX ATS

New mod.
Attention, this mode is only for american truck simulator,
previously was for both simulators, but now the values of mass and damping are different in each simulator.

DO NOT LOAD THE MOD ON ANOTHER SERVER. PLEASE, RESPECT THE ORIGINAL LINK OF THE AUTHOR.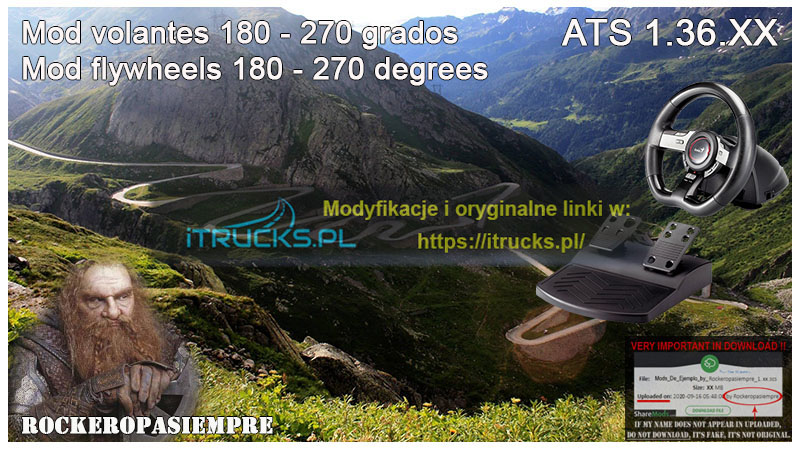 Description:

This mod makes fliers that are NOT 900 degrees, for example fliers 180 or 270 degrees are much more manageable in the game.

The mod facilitates and smoothes a lot the driving with this type of steering wheels that sometimes have a very sharp turn,
due to the few degrees they have. Important, place the subtype of the controller in "controller".
If it is placed in the "flyer" option, the mod will not take effect.
Remember, the "controller" option, and then place the sensitivity to your liking. For more information,
please follow the video. It has subtitles in English for better understanding of the settings.
Wersja gry:

1.36
File weight: 55 Kb
Credits:
Scs, Rockeropasiempre
Link: ( Aby zobaczyć link, zarejestruj się tutaj )
pozdrowienia
Todos somos suaves. 
Wszyscy jesteśmy miękkie
Użytkownicy przeglądający ten wątek:
1 gości